Who we are
MBAmatch.com is a trading name of Web Match Services International Ltd.

We are an independently run organisation established in December 1999 by Johann Diaz (see bio below), specialising in Executive Search Services including development of niche online jobs boards.
We were set up in order to exploit the benefits of the Web to make the recruitment search process more efficient for both candidates and employers.
In addition to MBAmatch.com we will be launching other 'sister' online jobs boards at a later date.
Please use this form if you would like to contact us.
Johann Diaz BSc MBA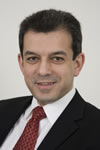 Having had a successful career in corporate business roles, working across a number of disciplines including Customer Service, Operations, Marketing, and IT/IS, for large, medium and small sized UK technology organisations, Johann established Web Match Services whilst completing an MBA in 2000 at a leading European Business School (Henley Business School).
Having successfully recruited, motivated and led junior and middle-line management teams, empowering them to achieve individual & organisational goals, Johann brings a rare combination of expert management practitioner, career development coach and business entrepreneur to the Talent Management community.
He has actively pursued his own personal growth in self awareness and emotional intelligence, using the Enneagram and other techniques for over 10 years, and so has good experience to draw on. He is a firm believer in Emotional Intelligence and its power in leadership development, and uses the Enneagram to support development in several of its constituent attributes.
He has also established leadership development service in Self Awareness (www.ExecutiveAwareness.com).